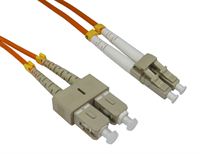 50/125 (OM2) Multimode Fibre Optic Patch Leads
Multimode patch cords are used to connect high speed and legacy networks like Gigabit Ethernet, Fast Ethernet and Ethernet. Our multimode patch cords conform to IEC, EIA TIA and Telecordia standards. OM2 patch cords are terminated with standard connectors giving optimum optical performance.
Features
SC, LC, ST, FC and MTRJ connectors.
LSZH cable or PVC.
900μm tight buffer.
OM2 fibre conforms to ITU-T G.651.1, TIA/EIA 492AAAB, IEC60793-2-10.
Simplex and duplex assemblies.
Duplex assemblies available with clips (SC and LC).
Armoured option also available.
Applications
For use in 1 Gb/s high speed LAN networks over a 550 m indicative link length at 850 nm wavelength using a laser launch
High speed and legacy networks including Gigabit Ethernet, Fast Ethernet and Ethernet.
Data centres.
Premises cabling in data networks including backbone, riser and horizontal.
Supports video, data and voice services.
Available Lengths – 0.5M, 1M, 1.5M, 2M, 2.5M, 3M, 4M, 5M, 6M, 7M, 8M, 9M, 10M 12M, 15M, 18M, 20M, 25M, 30M, 35M, 40M, 45M, 50M, 80M, and 100M.